Best Wedding Decorations in Gwalior
Weddings in India are a huge affair that includes multiple festives taking place on days before and after the wedding ceremony. This is why having that perfect set for every festive is essential to make your wedding affair a memorable one.  Indian weddings are typically a family affair where the entire family, including the extended ones, share the responsibility of planning and executing various jobs to ensure everything is top-notch. The first is undoubtedly is to finalize a good wedding venue in Gwalior. Abhinandan Vatika is one of the most beautiful and extravagant wedding venues in town. In fact, we have a team of great wedding decorators in Gwalior who can fulfill all your wishes to offer you perfect décor for every wedding festive.
Wedding Decoration Ideas
However, it is you that needs to finalize the wedding decorations. From floral decorations to light decorations, you must discuss with the decorator's everything to ensure all the entire décor is flawless.  But what are the latest light or flower decorations for weddings in Gwalior?  Check out the top decorations that most wedding planners in Gwalior prefer these days.
Mandap Decoration
The Mandap is the area where the wedding takes place, so it must be properly decorated for those dreamy pictures. Whether the Mandap is round or squared, it must have a good sitting arrangement for the groom, bride, pandit, and close family. It is also a custom to have the Mandap covered up by a canopy with four pillars supporting it.
At Abhinandan Vatika we use fabrics like silk or chiffon for the mandap decoration, or you can customize it with net made from Jasmine or marigold garland, or any other exotic flower. You can ask us to add candles and even mirror work embellishments to enhance the entire décor.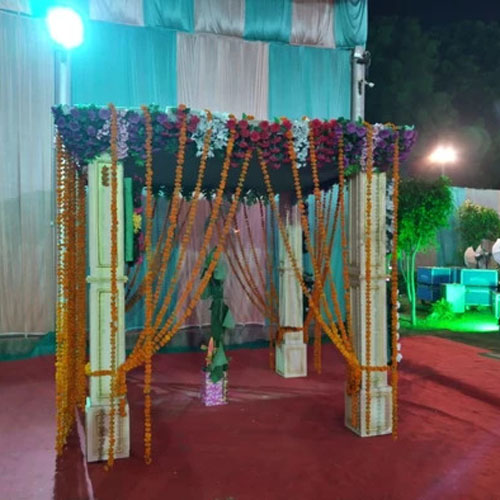 Flower decoration
Flower decorations are one of the most trending wedding decorations in Gwalior that is often used to dazzle up the entire venue. With Abhinandan Vatika you can choose flowers like peonies, lilies, orchids, and baby breath for the flower decoration. If you wish we can use the décor as your centerpiece for the dining areas if your budget is a bit tight.
Varmala stage decoration
Stage decoration at a wedding is of utmost importance for Abhinandan Vatika as this is the place where the bride and groom meet to exchange garlands. Therefore, it is essential that the entire area is decked up with some special floral arrangements customized by a florist to make the stage look grander and inviting. In the recent time flowers like rose paired with gold or brass sitting area has gained great popularity for stage decoration.
Light decoration
Light at a wedding is essential as it ensures that all the pictures of the special moments are well captured. Therefore, you must discuss with your wedding decorators in Gwalior the options for your light decoration.
Abhinandan Vatika is here to consider all your wishes. To add a bit of romance to your wedding ceremony or reception, you can ask us to add interior colorful lightning-like candle lantern, which is a great option for outdoor and indoor areas. A combination of interior right and clear glass paints makes the decorative lantern elegant and warming and makes the venue look extravagant.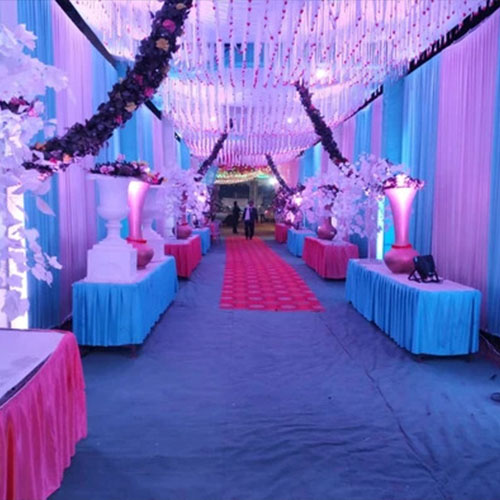 Tent decoration
For your tent decoration, Abhinandan Vatika offers vibrant nature themed nature decoration that showcases prosperity, a fresh beginning, and harmony. However, the color depends upon your will, and therefore you must discuss it with your wedding decorator in Gwalior to ensure you receive what you desire.
Top Wedding Stage Decoration Ideas
Here are the best wedding stage decoration ideas that Abhinandan Vatika uses to make the wedding shine.
A floral stage décor in hues of red and white
A varmala stage decoration done in red and white hues or pink with light color drapes can make the stage look beautiful and charming. While if you want to add more pretty or vibrant colors, you can go for a chandelier and a brass sofa to match the vintage vibes. Just ask us and we can offer you the same décor.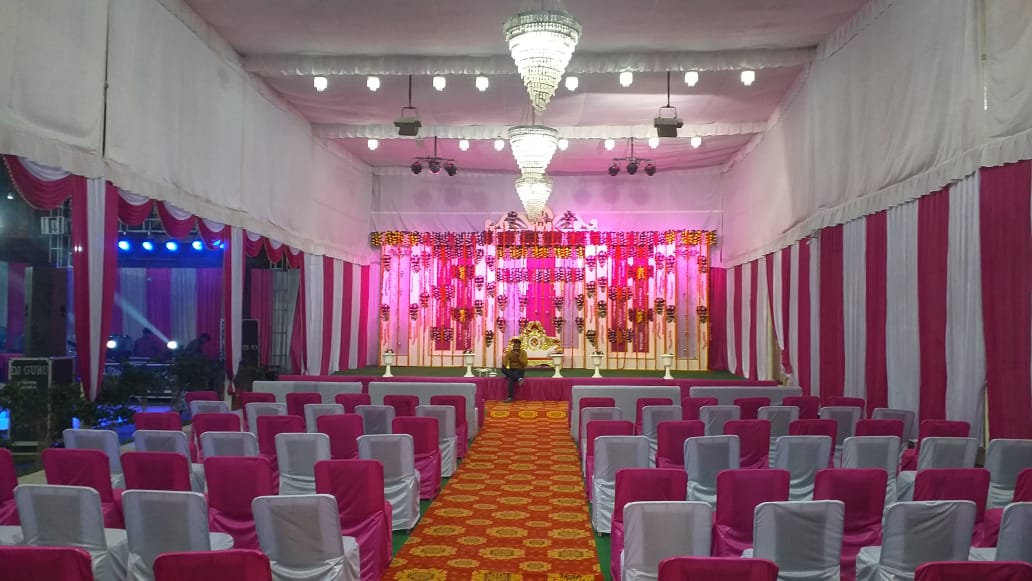 White and gold for a luxurious feel
This is one of the most popular wedding decorations in Gwalior that we do for the couples who want a luxurious feel. You can add that hint of royalty by opting for a combination of white and gold with a bit of red. The décor includes big vintage flower vases, olive and beautiful pink drapes against a white background. You can also include a white chair with printed red cushions and a luxurious carpet floor to give at the royal finish.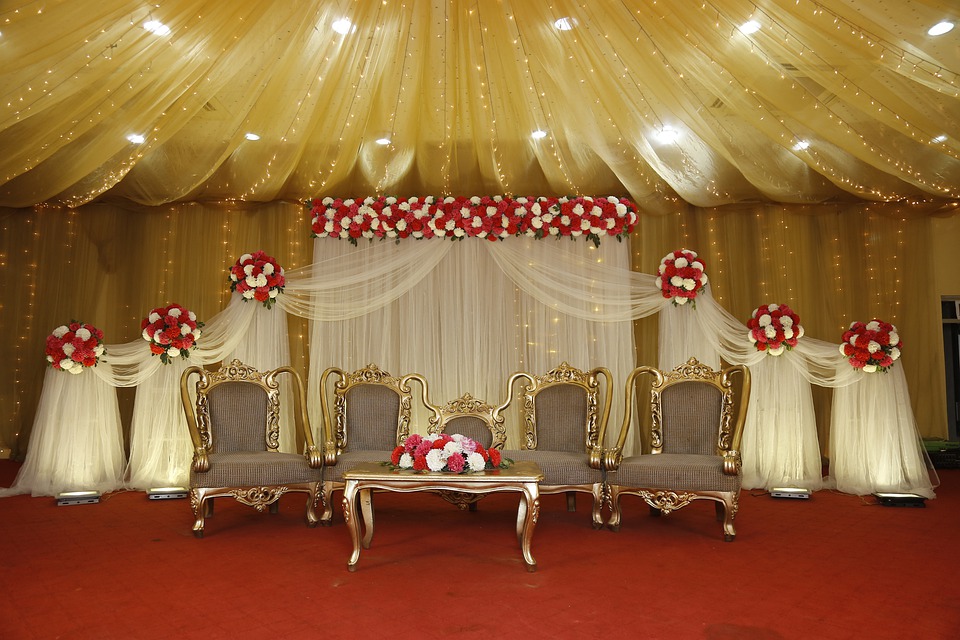 Floral Chariot style stage
Crown shaped chariot styled stage décor decorated with white blooms, and fabulous light will make everything magical. Just make us know your desire and we will make you a floral Chariot style stage perfect for those dreamy pictures.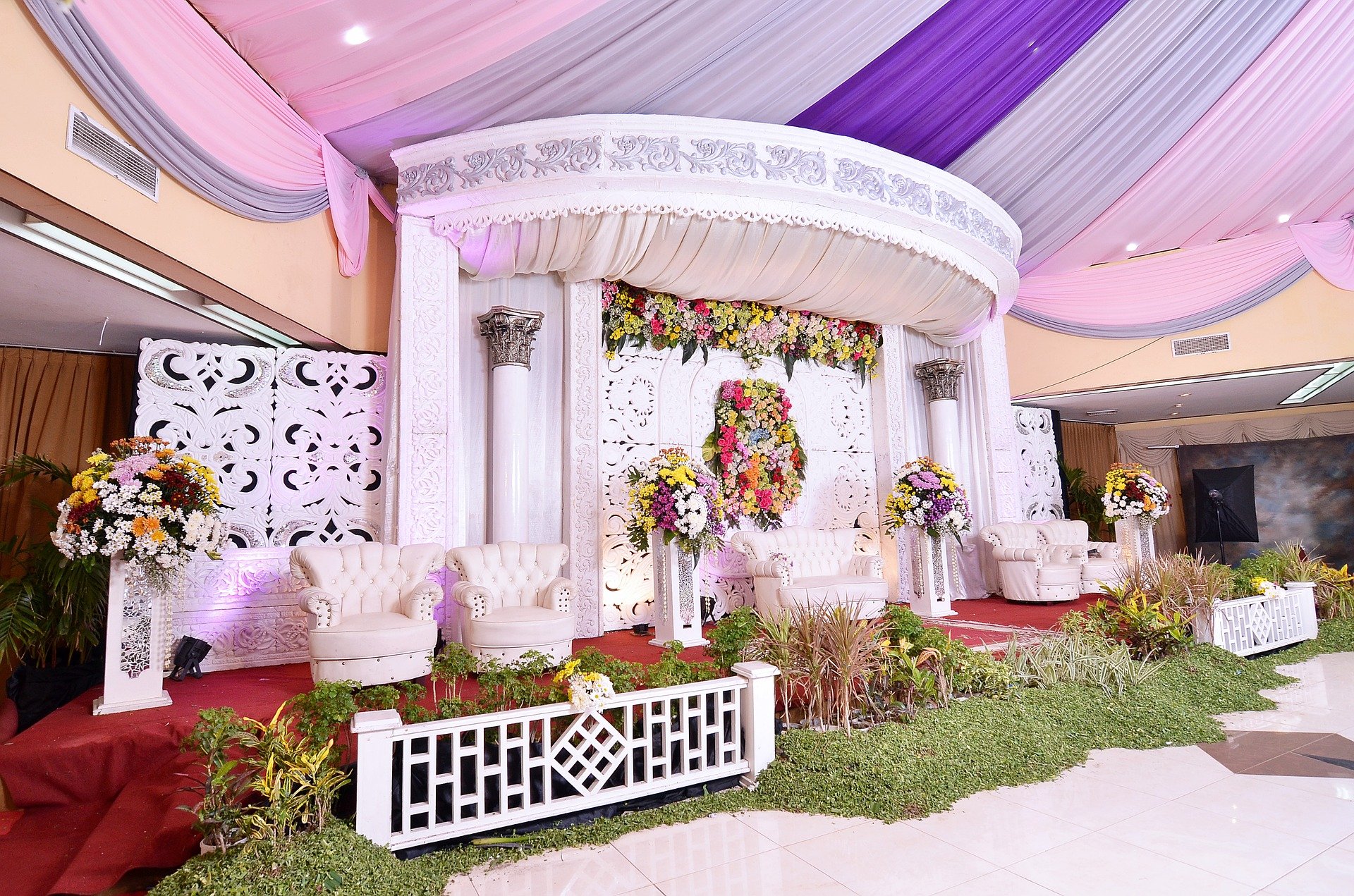 Dome-shaped flower stage
It is the most classic flower decoration for wedding in Gwalior done at Abinandan Vatika. An antique-styled dome stage decorated with white and pink roses, sequenced cushions, and a beige sofa makes it a regal and unique décor.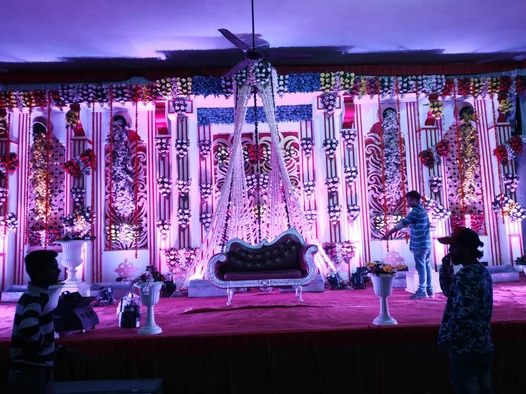 Shimmery and study stage
An extremely shimmery and shining stage will undoubtedly give you a fairytale feel. The décor can be done by adding a simple white sitting area with some burn candles alongside. This is all you need to have that classic yet magical theme wedding stage decoration. Your wish to have the perfect décor can be fulfilled when you talk to us. We will ensure to offer you the same décor.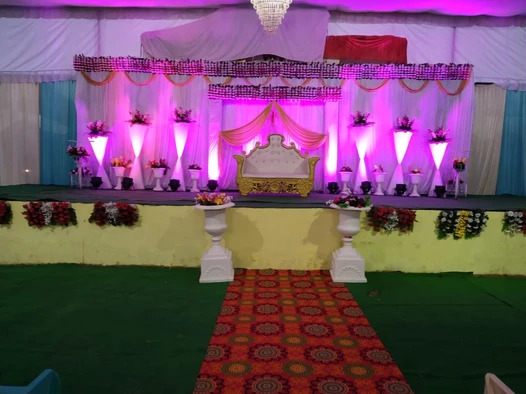 Indian weddings are a big part of life, and it's a one-time event for couples. Therefore, you must make it lovable and fun all the way. This is why you need to book Abhinandan Vatika or for your wedding as it will serve all your needs to the best. From offering you the best wedding decorators in the Gwalior to the best catering, we are here to meet all your desires and wishes for your D Day. When you book our venue, there is nothing that we can't make happen for your special day. Why wait or go to another when you here can receive the best and out of world services for your wedding day.
Connect with us today and book your wedding date with this amazing wedding venue.